Top 6 Pantone color trends for your 2022 wish list
According to the Pantone Color Institute, the trendy colors of Spring/Summer 2022 emphasize our desire for balance in a rapidly changing environment. This trendy palette reflects our need for security, certainty and comfort. At the same time, dynamic shades give us optimism, a sense of freedom, joy and emotional uplift.
Leatrice Eisman, the executive director of Pantone Color Institute believes that the trendy colors of S/S 2022 will inspire us to add new original color combinations to our wardrobe. Now we will show you some of them!
Gossamer Pink
Gossamer Pink is a delicate and serene shade of cotton candy. Of all the Pantone colors for Spring 2022, it is by far the most romantic: with its light touch, this transparent pink color gives joy and hope? No matter what clothes you chose — falling shirts or evening dresses!
We all know that quilted outfits will be extremely popular in the coming season. And if you are guided by trendy Pantone colors in our changing times, then you will love this quilted jacket with leg-of-mutton sleeves by PASKAL!
Spun Sugar
Spun Sugar is described by Pantone as a sweet pastel color with an airy character, reminiscent of the spring sky on a sunny day.
In the S/S'22 season, fashion brands and influencers recommend we try some unexpected combinations of Spun Sugar with orange, lilac and yellow.
Emilio Pucci sheer dresses with slits on the sides, complemented by feathers and sparkling stones, asymmetric Gucci midi dresses decorated with a scattering of rhinestones, minimalistic Salvatore Ferragamo outfits with interesting cuts — we see Spun Sugar everywhere!
Snow White
This almost pure white color is a testament to our desire for simplicity and limitless inner peace! But, of course, a pure white dress is quite a boring choice! If you love experimenting and are a rulesbreaker, then this awesome DHENZE white sleeveless parachute dress was made especially for you! Go and make all your friends jealous!
Innuendo
Innuendo's luxurious vibrant pink by Pantone intrigues and sends captivating signals.
Now is the time to choose the perfect Innuendo dress! Victoria Beckham has already shown that such a dress can suit everyone.
Bright and pastel shades of Innuendo are great for highlighting tanning, and also go well with summer clothes, from swats pants to T-shirts.
However, this color is popular not only because of Instagram queens: a jacket and a loose Innuendo-colored shirt were admired by Jacquemus, Valentino and Versace.
Glacier Lake
The cool and calm Glacier Lake shade resembles an ice-covered water surface and symbolizes serenity, peace, silence and tranquility.
By choosing clothes in such a color scheme, you will positively influence the mood of those around you. Imagine, for example, how you will affect a successful negotiation outcome by appearing at an important meeting dressed in this Blue Bermuds suit by BYRAKANA!
6. Daffodil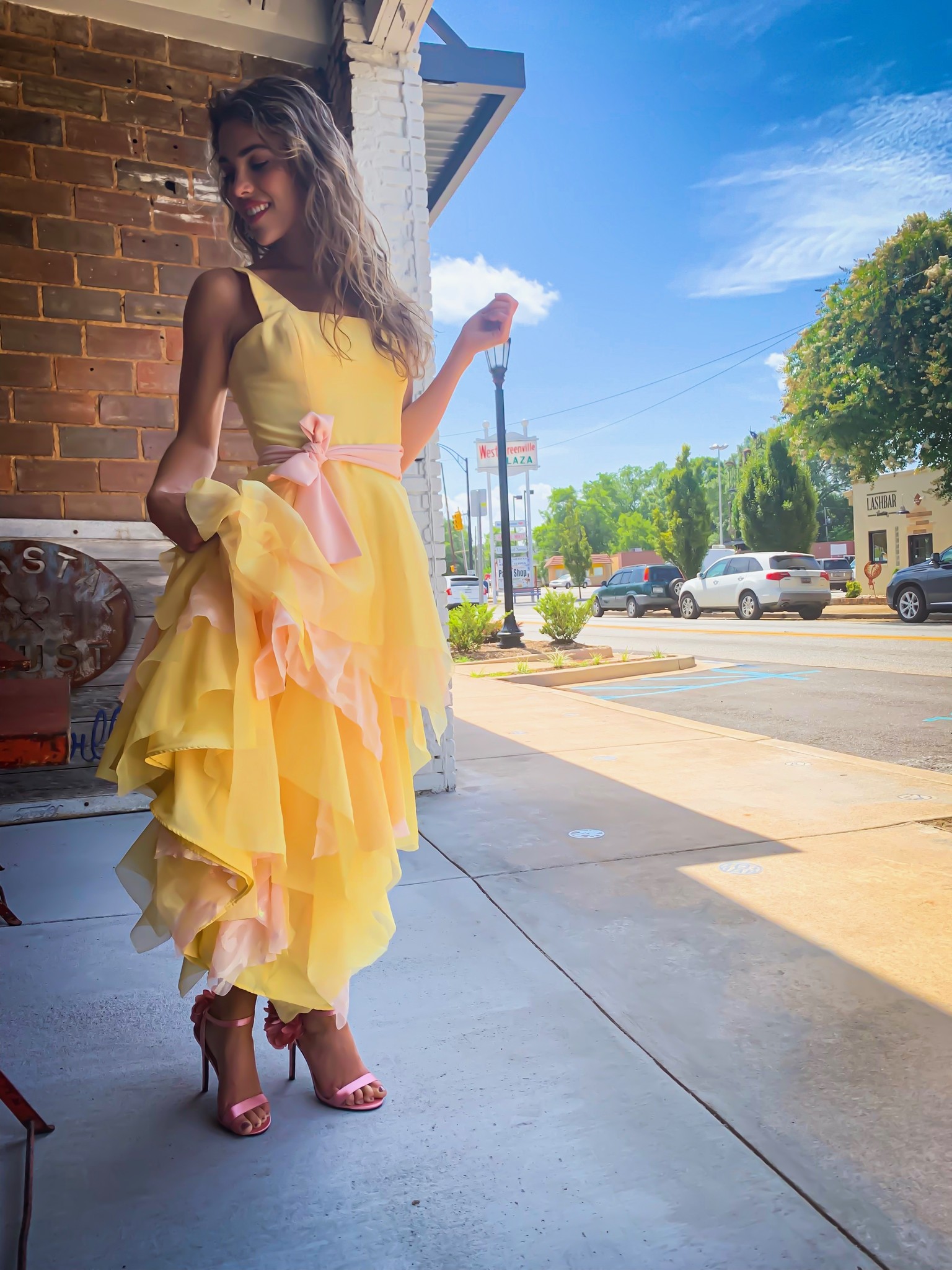 Pantone Palette Week in New York took us to a blooming spring garden! Pantone described this color as "casual". Sunny daffodil color gives a feeling of sun and joy!
For creating their Spring 2022 collections, many designers are going to use different shades of yellow: delicate pastel, bright lemon, warm banana and canary. Light chiffon dresses, linen suits, and even coats were also "painted" in yellow tones.
Most of the fashion brands won't be shy to create total yellow looks. Valentino adorned yellow dresses with huge pink flowers, while Miu Miu and Prada boldly combined yellow with red!
---